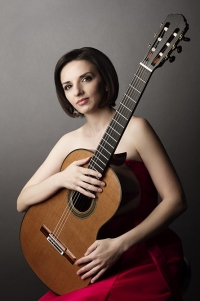 Miriam Rodriguez Brüllová
Miriam studied at the State Conservatory in Bratislava. After obtaining a bachelor degree in performing arts and pedagogy at the Academy of Performing Arts in Bratislava she studied with outstanding guitarist and pedagogue Alvaro Pierri at Université du Québec á Montréal and Université Laval in Quebec City where she obtained a master degree (2001). In 2003 she completed her studies at Universität für Musik und darstellende Kunst in Vienna as a postgraduate student with the same teacher.
She cooperated with such artists as Abel Carlevaro, Alvaro Pierri, Luise Walker, Oscar Ghiglia, Pavel Steidl, John Duarte, Hubert Käppel, Costas Cotsiolis, Zoran Dukić, Aniello Desiderio and Laura Young.
Miriam won major prizes in several guitar competitions in Slovakia as well as abroad.
She performed as a soloist with Jerusalem Symphony Orchestra, Brandenburgisches Staatsorchester, Orchestra Fondazione Arena di Verona, Orchestra Sinfonica di Roma, Slovak Radio Symphony Orchestra, Slovak State Philharmonic, Orquesta Filarmónica de Bogotá, Universal Philharmonic Seoul, Rzeszow Philharmonic, Virtuosi di Praga, Talich Chamber Orchestra, Slovak Chamber Orchestra, Orchestra da Camera di Lugano, Virtuosi Pragenses, Slovak Sinfonietta, Bohuslav Martinů Philharmonic, North Czech Philharmonic, Cappella Istropolitana and others. She performed also with Aeolus Quartet, Kalaci Quartet, Zemlinsky Quartet, Stamic Quartet, Mucha Quartet and others.
Miriam performed at such famous concert halls as Prague Rudolfinum, Berlin Konzerthaus, Seoul Art Center, Auditorium Conciliazione Rome, Teatro Filarmonico Verona and others.
In addition to Slovakia she has played in almost whole Europe, in South and North America, Africa and Asia. She led masterclasses in Slovakia, Peru, South Africa, Russia, Germany and the Czech Republic.
As a chamber music player she performs regularly with some great Slovak, Czech and Hungarian artists.
She has recorded for the Slovak Radio, Praga Digitals label (France), Arco Diva (Czech Republic) and Pavlík Records (Slovakia). In 2005 she initiated and established the International music festival Bratislava Chamber Guitar, in 2015 the International youth Visegrad guitar competition and in 2018 the Visegrad Music Youth Academy. She is the artistic director of all these events.
For several years she was engaged by the Universität für Musik und darstellende Kunst in Vienna. Now she teaches at the Conservatory in Bratislava. Miriam is playing the guitar by world-known luthier Gernot Wagner, Hans van den Berg (South Africa) and Petr Matoušek (Czech Republic).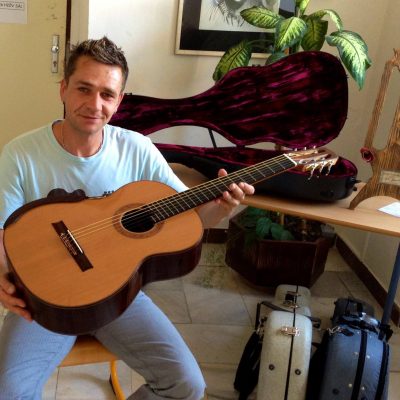 Petr MatoušekČeská republika
Čo povedali o gitarách Petra Matouška:

Vladimír Mikulka:
"Má nová kytara Matoušek mě překvapila už prvními notami. Byly naplněny velkou vitalitou a vzápětí jsem si všiml, že mám k dispozici obrovskou škálu dynamických odstínů k nimž se připojují hluboké expesivní barvy, jež mohu bez jakékoliv námahy míchat tak, jakoby samy přicházely z nějaké malířovy kouzelné palety. Výraznost a barvitost tohoto nástroje se mi stává každodenním fascinůjícím požitkem a inspiruje mě k nečekaným kytarovým dobrodružstvím".

Zoran Dukic:
"Bylo pro me potesenim hrat na kytaru vyrobenou Petrem Matouskem. Jde o jeden z nejlepsich Double Topu na ktere jsem kdy hral".

Petr Saidl:
"Petr Matoušek je podle mého názoru nejperspektivnějším českým stavitelem kytar. Jsem rád, že mohu koncertovat právě na jeden z jeho nástrojů, o němž nelze mluvit jinak, než v superlativech."

Dr. Richard P. Leach M.D. – New York – USA
Hudebník a sběratel
"Jsem velice šťastný vlastník dvou Double Topu Petra Matouška. Jeden cedr a jeden se smrkovou ozvučnou deskou. Jde v mnoha směrech o neuvěřitelné nástroje – jsou krásné na pohled, precizně zpracované ale hlavně mají překrasný zvuk. Cedrový top má jasný a velmi barevný hlas s dotekem španělského přízvuku. Ma vynikající projekci, přesto dokáže znít intimně. Smrkový top má podobné kvality basu ale navíc neuvěřitelnou sílu výškovové energii. Hrát na tuto kytaru je jako řidit závodní vůz. Vlastním několik dalších kytar, včeně dvou, které jsem sám zbudoval, ovšem kytary Petra Matouška náleží zcela do jiné kategorie a s jinými jsou zcela neporovnatelné. Již nyní nedočkavě čekám na svou třetí kytaru, kterou pan Matoušek pro me staví."